The Shine Cold Press Juicer is the Best Low-Cost option that allows you to create fresh vegetable and fruit juices in your kitchen in minutes.
Introducing the first product from Shine Kitchen Co., the cold press vertical juicer. Compact, accessible and easy to use this product fits easily into any lifestyle. This innovative juicer breaks down the barriers to health, designed to help you Shine bright!
The Shine cold press juicer runs at a low speed of 40 RPM with a 200 Watt motor and 3 reduction gears resulting in enough torque to grind up and extract the juice from common fruits and vegetables.


BPA-FREE Auger and other interior juicing parts. Only put in what you want for clean fresh juices. Easy to clean auger with pocket recess to reduce clogging.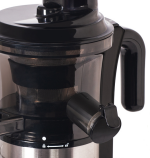 Spout Cap prevents a juice-tastophe! Keep all your juice in the pitcher or in your cup, not on the counter. Used to prevent drips on the countertop and allow you to mix juices inside the juicer.
Fits Anywhere
Compact juice with the smallest footprint of any vertical slow juicer of just 5.5" diameter at the base. Takes less space on your counter and is compact enough to travel with.
Simple and Sleek
Durable stainless steel body makes post-juicing clean up a cinch and keeps your juicer looking good. The tall height allows you to put a 32 ounce wide mouth mason jar underneath to catch your fresh juices.
Three Stage Reduction Gear Technology The three Stage Reduction Gear Technology not normally used on juicers in this price range creates more torque that makes all your juicing tasks smooth and effortless.
More about the Shine Kitchen Co
The Shine Kitchen Co's design ethos is to maximize performance while minimizing our footprint. Our compact designs use less materials and fit in any sized kitchen. Our efficient engineering ensures maximum performance with minimal waste. The Shine Kitchen Co. was born in Southern California out of a 30-year journey in health and wellness. Our expertise is drawn from decades of experience in making healthy living easy and everything we make is backed by Tribest's legendary service. You can rest assured that your warranty won't outlast the life of our company and that we've always got your back. Your investment in health is safe with us.